Scarborough cafe apology to breastfeeding mum asked to leave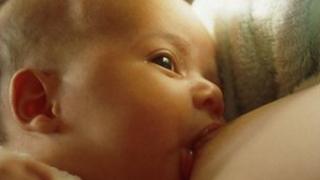 A mother-of-three said she was left "shocked and red-faced" after being thrown out of a Scarborough coffee shop for breastfeeding her newborn daughter.
Lisa Lofthouse was feeding four-week-old Sarah-Ann at Esquires when a staff member asked her to leave following a complaint from another customer.
Mrs Lofthouse said: "I was left feeling like I had done something wrong."
Owner Steve Hall said he was sorry about what had happened and that the shop had a pro-breastfeeding policy.
Mrs Lofthouse, 27, said after being asked to leave she had to go to buy some formula milk for her daughter because she was so distressed.
"She was crying because she was that hungry and I just needed to feed her as soon as possible," she said.
She added: "I am so annoyed by what happened.
"It can be hard for a woman to feel comfortable enough to breastfeed in public so when something like this happens it obviously does not help.
"I know of other women who have encountered something similar and it's made them stop breastfeeding all together."
Mr Hall, whose business is located in the Brunswick Centre, said: "We have stickers on display stating that we are pro-breastfeeding, but for whatever reason we have not met the standard and for that we have apologised."