Whitby residents given chance to rehome old whalebones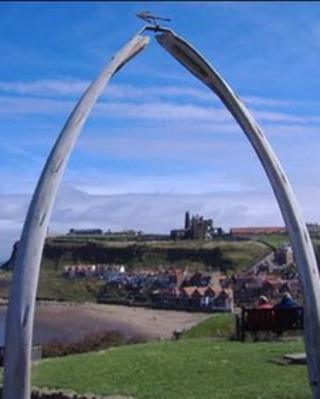 Residents in a North Yorkshire seaside town are being given the chance to become the custodian of old whalebones.
Whitby's old whalebones used to form an archway on West Cliff but were replaced by new ones in the 1990s because they had become weathered.
A firm had been storing the bones but has now run out of space so Scarborough council is searching for a new home.
Councillor Joe Plant said: "It would be poignant if the whalebones could remain in Whitby."
The bones were acquired in 1963 by Whitby Rural District Council as a gift from a Norwegian shipping company to mark the town's whaling past.
The bones came from a 113-ton fin whale which was killed in the Weddell Sea in the Antarctic by the Norwegian whaling ship Thorshovdi.
Bones 'a liability'
The West Cliff was chosen as an appropriate place to display them because it is near the Captain Cook monument.
In the late 1990s the jawbone arch had reached a point where weathering had taken its toll.
The council said despite renovation work the bones were becoming a liability and had to be taken down.
They were originally donated to Whitby Archives where they were on display and then to local building firm Wilf Noble following the archives' closure.
In 2002 after a worldwide appeal the council acquired a new set of jawbones from one of its twin towns, Barrow in Alaska.
The new bones, which form the current 19ft (5.8m) arch, are from a bowhead whale which was killed legally by native Inuit in 1996.