Groups unite against North York Moors potash pit plan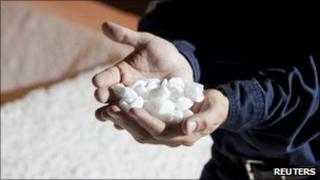 A fighting fund has been set by the support groups of every national park in the country over plans for a potash mine in the North York Moors.
Sirus Minerals Ltd said the mine would provide jobs, and modern technology would reduce its environmental impact.
Tom Chadwick, chair of the North Yorkshire Moors Association, said there were fears it would be an "undesirable industrial intrusion" on the park.
The association is being supported by 10 similar organisations.
Potash is a potassium compound used in fertilisers. The UK's only mine is at Boulby in North Yorkshire, a few miles north of the North York Moors National Park.
Mining company Sirus Minerals has been sinking boreholes to establish the exact site where it plans to have the pithead.
It has planning permission for 13 exploration sites using drills reaching further than a mile underground.
Underground pipeline
On the evidence it has so far, Sirus has admitted the pithead would need to be inside the park.
The company proposes to use new technology to have low-rise pitheads, bury spoil back in the tunnels and says it will not use rail or lorries to take the potash away from the site.
It wants to build an underground pipeline to take the minerals as slurry to a processing plant on Teesside.
Chris Fraser, company chief executive, said: "I think it always has to be balanced by what it will look like (and) where will it be.
"We are working as hard and as fast as we can to start providing answers for that."
Mr Chadwick said the association was not against the extraction of potash but wanted the pit to be outside the boundaries of the national park.
The North York Moors National Park Authority said it was aware of concerns and would scrutinise any proposals.
Sirus said it would be at least a year before it submitted final plans about where it wants to build the pit and applies for planning permission.