Paedophile ring inquiry: Jonathan Garner-Harris jailed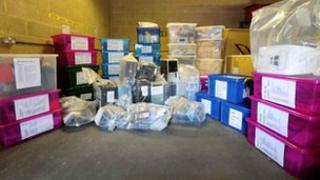 A boss from a children's activity centre has been jailed for four years for his role in a paedophile ring.
Jonathan Garner-Harris, 37, had pretended to be a woman to gain membership of a nudist website used as a cover to encourage child abuse.
Garner-Harris, deputy director of the Marrick Priory centre, near Richmond, North Yorkshire, admitted three charges of inciting a child sex offence.
He was the ninth paedophile ring member to appear before the courts.
As well as the incitement charges, Garner-Harris also admitted 17 charges of possessing, making and distributing indecent photos of children.
He had pleaded guilty at Durham Crown Court but his case was transferred for sentencing to Portsmouth where other members of the group had been tried.
The prosecution told the court Garner-Harris had used his computers, including one at his parents' home, to carry out the explicit conversations and look at indecent images.
'Encouraged abuse'
Garner-Harris, who appeared at the court via video-link, pretended to be a woman and invented a daughter, aged between 12 and 14, in order to be accepted by other members of a nudist website who were based in the UK, Australia and America.
The court was told that Garner-Harris was involved in internet conversations with the group ringleader, Robert Hathaway, during which he encouraged the Portsmouth-based offender to abuse two young children.
Kerry Maylin, prosecuting, said: "Like others involved, he [Garner-Harris] used the guise of being interested in nudism to keep in contact with people who had similar sexual interest in children.
"This quickly turned to sexually explicit conversations about children."
She said that during interviews with police, Garner-Harris said he had been acting out a "fantasy", had not intended to hurt anyone and had shown remorse for his actions.
Hathaway, of Tyseley Road, Portsmouth, was previously given an indeterminate sentence, with a minimum six-year term.
His partner Melissa Noon was jailed for four years for her role in the abuse.
Family 'devastated'
Amanda Rippon, for Garner-Harris, said: "He is a man who has devastated his good character. He was extremely well thought of, not only in his community but in his church.
"His family has been absolutely devastated by this and he is acutely aware of the misery he has heaped on their heads," she added.
Sentencing, Judge Roger Hetherington said: "I accept that Robert Hathaway needed no specific encouragement from you to commit these sort of offences but your part in fuelling his offending in these chats was, along with others, an important contribution towards the abuse of these two young children.
"It's quite apparent to me that Hathaway fed off that encouragement and you, no doubt, derived gratification from the influence you were exerting."
Hampshire police started their investigation into the ring after being tipped off by authorities in Australia, who had uncovered a "mirror image" ring in Brisbane and Sydney which also abused at least one young child.
A total of 2,000 pages of chat logs were uncovered by police, as well as 14,000 indecent images of children and 300 videos of children being abused.
Update 18 May 2012: This report has been amended to clarify that none of the computers used by Garner-Harris belonged to Marrick Priory.