Scarborough Open Air Theatre postpones summer launch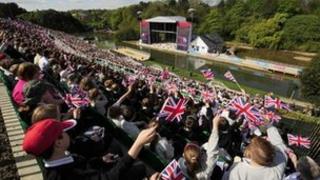 Scarborough's Open Air Theatre has delayed the launch of its summer season.
The £3.5m site was reopened by the Queen in summer 2010 after being closed for 26 years.
Apollo Leisure, which runs the theatre, said the launch was due to take place on Tuesday, but had been delayed because of Scarborough Borough Council.
David Archer, from the council, said it was surprised by the statement and was awaiting the draft programme.
However, Apollo Leisure claimed a programme of events revealing who would be appearing at the outdoor venue this year was in place and ready to launch.
In a statement, Apollo said: "We are extremely disappointed not to be able to announce as planned tomorrow and as soon as we have received the appropriate support from the council we will launch Scarborough Open Air Theatre's 2012 summer season."
Nobody from Apollo was available to elaborate further.
Elton John and N-Dubz performed at the theatre last year.