Terror con pair to pay back money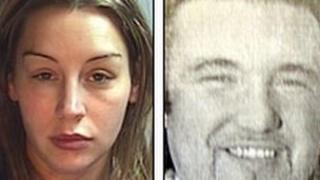 A couple who scared people into giving them £1.9m by suggesting they were linked to Irish terrorists have been told to pay back more than £800,000.
Dennis McGinley, 30 and his wife Bianca, 25, defrauded victims in North Yorkshire, Staffordshire and Somerset.
Dennis McGinley was jailed for three years and his wife for three-and-a-half years in April 2010 after admitting conspiracy to defraud.
They must pay back £787,480 and £29,315 respectively.
The couple have no fixed address, but are from the travelling community living in the Taunton area of Somerset.
Kneecapping threat
At a confiscation hearing at Leeds Crown Court, Judge Geoffrey Marson QC declared that they had benefited from their crimes to the sum of £1,859,675.
Based on their realisable assets, he ordered Dennis McGinley to repay £787,480 before 1 June 2012. If he does not he will have to serve a further four years in prison and will still be liable to pay the cash back.
Bianca McGinley was ordered to repay £29,315 before 30 March or she will face a further year in prison and still be made to repay the money.
One of their victims, a North Yorkshire farmer, handed over almost £1m in a year after they threatened him with kneecapping and killing his elderly mother.
A father and son from Staffordshire handed over £800,000 in cash and plant machinery without telling each other as both were so frightened by McGinley.
Det Insp Ian Wills, head of the Financial Investigation Unit at North Yorkshire Police, said: "The McGinleys were ruthless, convincing blackmailers who destroyed their victims' lives by threatening them with horrendous acts of violence and conning them out hundreds of thousands of pounds.
"We are more than pleased to be able to take back a large portion of that cash and hand it back to the victims who suffered so much."