City of York Council plans cut in road-gritting budget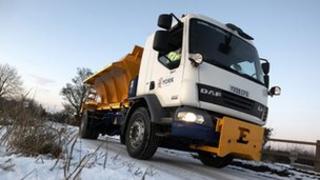 The number of roads routinely gritted in York could be cut under budget proposals by the ruling Labour group.
The number of full-time posts in the highways department would also be reduced by 16.
Labour said it would still provide a contingency fund for gritting but the Liberal Democrats said that was a "red herring".
The proposals will be considered by the council's cabinet on 14 February.
The total reduction in the highways budget would be about £500,000 and also includes reductions in gully cleaning, routine maintenance and extending the time it takes to repair potholes.
Labour said making a small saving on gritting would enable it to create a contingency fund in case of extreme weather.
Labour councillor Daffyd Williams said: "We are cutting back on around £10,000 from the maintenance budget on gritting but we will create a contingency fund.
"There will always be sufficient resources to make sure our streets are gritted and cleared at times of bad weather."
The Liberal Democrat opposition said the council had spent double its gritting budget in the winter of 2010-11 and that Labour's planned cuts were a mistake.
Ann Reid, deputy leader of the Liberal Democrat group, said: "Talk about using contingency is jut a red herring, what they are saying is they are cutting £10,000 from the gritting budget next year with no idea where they are taking it from."