Scarborough residents return home after gas leak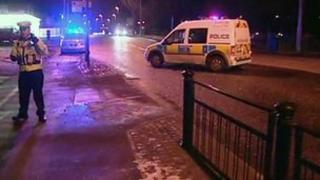 Dozens of residents in Scarborough have returned to their homes after they were ordered out because of a gas leak.
About 150 properties within a 100m (328ft) radius of the leak on Seamer Road were evacuated.
Emergency services said the road was now open to traffic and residents returned to their homes at about 01:00 GMT on Wednesday.
Northern Gas Network apologised to those affected by the incident.
North Yorkshire Police said it was alerted to the gas leak at 12:50 GMT on Tuesday.
The gas company said a contractor working for them on a planned upgrade of the gas mains had damaged a pipe during "routine work".
Gwen Allen, from Northern Gas Networks, said a full investigation would be carried out by the company.
Two schools - Springfield Special School and Hinderwell - were also evacuated.