North Yorkshire Police Authority 'lax cash' claim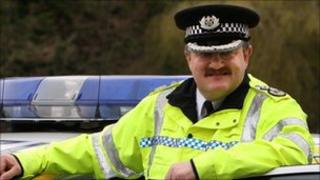 A former senior police officer billed a police authority thousands of pounds for personal training despite getting an allowance for it, a report says.
Former Deputy Chief Constable of North Yorkshire Adam Briggs, was given a total of £31,647.06 over three years to pay for development and medical cover.
The Independent Police Complaints Commission (IPCC) said the authority's lack of control was "unacceptable".
North Yorkshire Police Authority said it had acted responsibly.
Mr Briggs, who was deputy chief constable between 2007 and 2011, has been unavailable for comment.
His contract with North Yorkshire Police included an annual payment of £10,000 towards private medical insurance and personal development training.
But in November 2007, Mr Briggs claimed a further £11,750 for a 24-month contract for training with a company called Enabling Development.
"He claimed the cost of this contract from North Yorkshire Police, despite already being in receipt of the £10,000 per annum allowance," the IPCC report states.
In total, Mr Briggs received £31,647.06 during his time with the force.
The IPCC report concluded "that it was unacceptable for North Yorkshire Police Authority to give an officer more than £30,000 without any means for auditing how that money was spent".
IPCC Commissioner Nicholas Long said: "The police authority's remit is to scrutinise the expenditure of a police force and hold the senior officers to account.
"It is utterly unacceptable therefore that more than £30,000 of public funds can be handed to an officer without any means to audit how that money is used.
"Although the police authority stipulated what the money was to be used for, they did not check, and even gave Mr Briggs some discretion on how he spent it within the set parameters.
"Although Mr Briggs has retired one would think he would want to take an opportunity to explain what he did with the money and why he claimed a further £11,750 from the public purse.
"It may well have been used entirely legitimately but Mr Briggs, who while holding a senior public office should have been acting in a financially responsible way, which was open, transparent and auditable, has chosen not to tell us."
'Serious distraction'
North Yorkshire Police Authority said the allowances, provided from 2007 to 2010, were brought in to ensure that senior officers had the personal support necessary to do their jobs.
Jeremy Holderness, chief executive of the police authority, said: "An illness to oneself or a loved one can be a serious distraction. We sought to ensure that through this allowance, such distractions could be minimised and focus could be maintained on leading this important public service.
"The authority recognises that these responsible roles can be very stressful and can take a toll on the emotional health of the individuals concerned. The authority sees it as its responsibility - as effectively the employing body - to minimise such impacts if it can."
Mr Holderness added that the allowance also allowed senior officers to continue their personal development "so as to continue to perform at the top of their game".
"We agree that in this instance, sadly, the arrangements might not have operated as we would have wished and we have learnt lessons for the future. However, in our view, it is disproportionate to say that the arrangements were 'unacceptable'," he added.
Mr Briggs, who retired in 2011, was found guilty of misconduct following an investigation into allegations he had helped a relative get through a police recruitment exercise in 2010.