Royal Marine David Hart killed by undetected Afghan bomb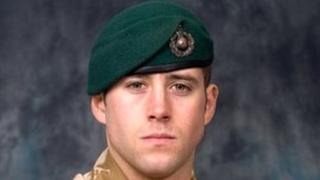 A North Yorkshire marine died after being caught in an explosion in Afghanistan, an inquest has found.
David Hart, from Poppleton, died as a result of a blast from an Improvised Explosive Device (IED) on 6 July 2010, York Coroner's Court was told.
Marine Hart left a letter telling 32 of his friends he wanted them to spend part of his life insurance on a Las Vegas holiday, his family confirmed.
The coroner recorded a verdict that he was killed while on active service.
'Most professional'
The court had earlier been told that Marine Hart, 23, of 40 Commando based in Somerset, was a member of a team training Afghan police.
He was killed while on joint foot patrol in Sangin with 10 British and 13 Afghan soldiers.
Sgt Damien O'Sullivan, from 40 Commando, said the patrol was travelling in an "Afghan snake", a single-file line with Afghan soldiers up ahead.
He said they were going to talk to local people when a bomb went off in a valley near their base.
Three metal detectors were being used to clear a path away from any explosives but none was found until the IED which killed Marine Hart.
Sgt O'Sullivan said that immediately after the explosion British soldiers cleared a path to Marine Hart, who had serious injuries from the waist down, and began to administer first aid.
He was carried by a military vehicle to a nearby base but later died.
Sgt O'Sullivan told the court that Marine Hart, whose 24th birthday was on the following day, was "one of the most professional people I ever met".
"He was the life and soul of any situation he was in and he was loved and respected by everyone in the police mentoring group," he said.
Sgt O'Sullivan added that Marine Hart "had a bright future ahead of him".
In a written statement, pathologist Nicholas Hunt said the cause of death was "blast injuries caused by an explosion".
Coroner Donald Coverdale said while a number of Afghan and British soldiers had walked across the same spot, it was Marine Hart's footstep which triggered the IED.
Mr Coverdale recorded a verdict that Marine Hart died from injuries inflicted by an exploding IED while on active service in Afghanistan.
Marine Hart's family confirmed that he had stipulated in a letter that a portion of a £250,000 life insurance policy he took out before his deployment should be used for his friends to travel to Las Vegas for a holiday.