York hockey player Kishor Solanki dies after collapsing during a match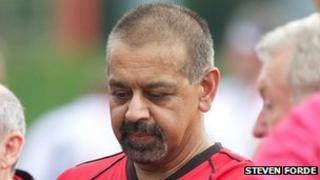 A North Yorkshire hockey player has died after collapsing while playing in a match alongside his teenage son.
Kishor Solanki, 54, from York, fell unconscious during a City of York Hockey Club game on Saturday afternoon.
Mr Solanki was treated at the scene by a team mate before being taken to York Hospital where he later died.
City of York Hockey Club member Graham Todd said Mr Solanki had been a "fit and relatively young man".
Mr Todd said that after he collapsed it took a few moments for fellow players, including Mr Solanki's 14-year-old son, to realise what had happened.
"I thought somebody had turned their knee or something like that. But it soon became obvious that it was rather more serious than that," he said.
Andy Dent, a doctor who also played on Mr Solanki's team, administered CPR until an ambulance arrived, Mr Todd said.
Mr Todd said everyone at the club was shocked by Mr Solanki's sudden death.
A minutes silence was held at a City of York Hockey Club match on Sunday as a mark of respect to Mr Solanki.