Stone Age axes stolen from Yorkshire Museum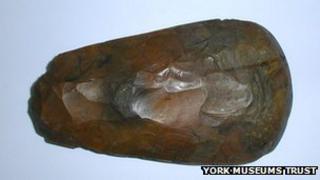 Thieves have stolen two Stone Age axes from the Yorkshire Museum.
The axes, each 5.9in (15cm) long, were stolen during a public "handling" display at the museum in York.
The York Museums Trust said the artefacts did not have a high financial value but were an important part of the museums collection.
North Yorkshire Police said officers were working with curators at the museum in an effort to catch those responsible.
The prehistoric artefacts are two of about 2,000 in the Yorkshire Museum's collection.
Lee Clark, from the York Museums Trust, said: "The axes were part of the handling collection at the museum, but they were securely fastened to the display.
"The axes, although not of great financial value, were important to the trust's collections and we would like to appeal to the thief to bring them back so they can be once again enjoyed by the public."
Mr Clark said the trust believed the items were stolen during a public event at the museum on 7 March.
He added: "York Museums Trust strongly believes in allowing visitors to get their hands on history. However, following this theft, the trust will do a full review of its handling policy security to make sure such incidents do not happen again."