Scarborough town hall move 'would rip heart' from town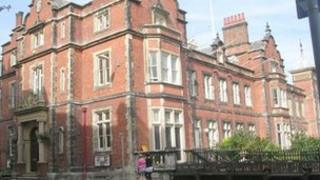 Business leaders claim a plan to move council staff away from the town centre "would rip the heart out of Scarborough."
Scarborough Borough Council will decide on Friday whether to relocate 340 office workers from the town hall to an out-of-town office.
The council said moving to a "fit for purpose" site would save more than £7m on future maintenance and IT costs.
The town's chamber of trade said the move would be "devastating" for shops.
Chris Golder, chairman of Scarborough and District Chamber of Trade and Commerce, said the organisation supported new investment in the town, but the proposed move would affect businesses in the town centre.
"The vibrancy of our town centre relies on having offices there," he said.
"Consider the loss of more than 340 people who regularly shop, use cafes, pubs, restaurants, banks and so on, all year round. The effect on Scarborough town centre could be disastrous."
Scarborough Borough Council claimed the current town hall "is not suited to modern working," and said the move to a new site would "free up the existing site for redevelopment as part of the wider regeneration of the town centre and seafront".
The £3m cost of the new building would be paid for by the the Homes and Communities Agency (HCA), the government funded national housing and regeneration agency for England.
In return the HCA would get a stake in any redevelopment of the town hall site.
A report drawn up by the council's chief executive and head of finance claimed the relocation of office accommodation away from the town centre would have "little quantitative material impact" on the economy, with the staff at the town hall currently "contributing just 0.6 per cent of the total retail turnover of the town centre."
Councillors will vote on three options: Keeping staff and current functions at the town hall, moving workers to the new site but keeping council meetings at the town hall or moving everything to the new location.