Firefighters tackle North Yorkshire moors blaze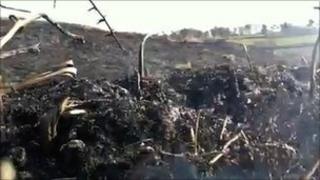 More than 35 firefighters have been tackling a fire that has destroyed about 15 acres of moorland in North Yorkshire.
North Yorkshire Fire and Rescue Service was called out to Greenhow Hill Road at Thruscross on Tuesday.
It took firefighters nearly 12 hours to deal with the incident on Hanging Moor.
The fire service said crews left at 1600 BST on Wednesday, saying the cause of the fire was "controlled burning that got out of control".
Crews from Harrogate, Ripon, Skipton, Northallerton, Tadcaster and Summerbridge were called out.