Queen's Maundy money York visit: Motorists warned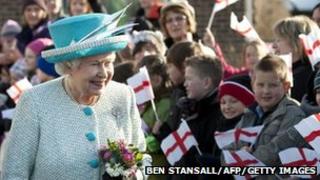 As York prepares for the Queen's Maundy service visit, motorists have been told to avoid the city centre on 5 April.
The Queen is to distribute Maundy money at York Minster for the first time in 40 years.
Tourism bosses in the city said they expected about 15,000 people to visit on Thursday.
Numerous road closures will be in force and the local council is urging visitors to make alternative travel arrangements.
City of York Council saidtraffic restrictionswould be in place from the evening of Wednesday, 4 April and throughout much of the next day.
Officials said all public transport services would be affected and delays should be expected.
The Queen will be accompanied by the Duke of Edinburgh and Princess Beatrice of York.
The Royal Maundy service takes place at 11:00 BST and after the service the Royal party will attend a lunch at the Mansion House and then visit the Yorkshire Museum.
The service was last held at York Minster in 1972.
The Queen last visited York in 2005 when the city hosted Royal Ascot while the Berkshire course was given a £185m revamp.