Large crowds greet Queen for York Minster Maundy Service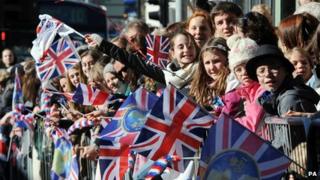 The Queen had asked for this year's Royal Maundy service to be a large one to reflect the Diamond Jubilee.
With a guest list of more than 2,000 people in York Minster - and a crowd numbering several thousand outside, it certainly felt like a great state occasion.
People began gathering in the April sunshine at about 08:00 BST, several hours before the Queen, accompanied by the Duke of Edinburgh and Princess Beatrice of York, were due to arrive.
Julie Pickering, from Driffield in East Yorkshire, had brought her three daughters.
She said: "We did leave home at 07:30 BST but we didn't want to miss anything.
"We've just seen the Yeoman of the Guard go in. Well worth the wait and we've got some sweets with us to keep us going."
Jo Ramsey, like most of the crowd was there for one reason only - to see the Queen.
She said: "It is such a quintessential English thing, all this. We couldn't have missed out."
As the crowd grew, the queues of guests passed through strict security as they took their seats in the cathedral.
Everyone had been told to arrive early and had to be seated before the royal party arrived.
Members of the public had been able to obtain tickets in a public ballot held earlier this year.
The queue also included the 86 men and 86 women chosen to receive the Maundy money from the Queen.
One of those selected, Edith Bond, from Tadcaster, said: "What an honour, I am going to meet the Queen."
Alf Patrick, 90, from York, who played for York City Football Club in the 1940s and 1950s, said had been "dumbfounded" to receive the invitation.
Large cheer
He said: "It was quite an experience seeing the envelope with the Buckingham Palace mark on it. Meeting the Queen at my age will be a wonderful experience."
Shortly before 11:00 BST, the Great West Doors of the ancient cathedral opened and the Dean of York, the Very Reverend Keith Jones, and the Archbishop of York Dr John Sentamu emerged on to the steps, ready to great the royal party.
A large cheer began to pass through the crowd as the royal car approached the Great West Front and the Queen, wearing turquoise and cream, finally emerged from the car.
She was on time, despite the royal train arriving at York Station a little later than planned.
The royal party then passed into the minster and the Maundy Service began as the crowd began to disperse.