Hundreds of North York Moors homes still without power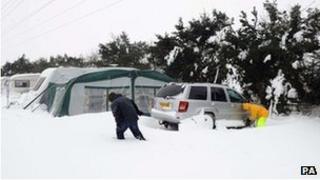 About 400 homes in North Yorkshire are still without power after gales and ice brought down power lines.
At one stage on Wednesday morning, some 50,000 homes and businesses in northern England were without electricity.
Northern Powergrid said most of those customers had been reconnected but homes on the North York Moors were still affected.
The company said 150 engineers were working to restore supplies.
It said homes in Rosedale, Eskdale, Bransdale, Farndale and surrounding areas were affected.
'Silence is deafening'
Northern Powergrid blamed strong winds and blizzards for bringing down overhead power lines on Tuesday.
A statement from the firm said: "We sincerely apologise to all our customers still experiencing power supply problems following the severe weather conditions on Tuesday and Wednesday of this week.
"We want to reassure our customers that our engineers are working hard to restore supplies as quickly as possible."
Some customers have complained they have not been given enough information about the problem.
Nigel Wilson, of Westerdale, said: "Westerdale is remote and has several very elderly residents in their 80s and 90s with only coal fires to provide heat and cooking.
"I have not been able to get in contact with any representatives of the power company to get information as to what is happening.
"Neither, as far as I can tell, do they have any system to receive information as to local conditions. At present the silence is deafening."