Pollution levels in York's Salisbury Terrace area to be monitored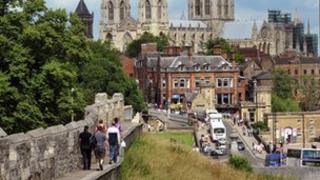 Plans to monitor air quality in a third area of York have been given the go-ahead by councillors.
City of York Council said 52 properties in the area were exposed to high levels of nitrogen dioxide above the acceptable limit set by the government.
Streets surrounding Salisbury Terrace have been declared an Air Quality Management Area (AQMA).
AQMA's were imposed on two other areas including the city centre in 2002 and streets near Fulford Road in 2010.
The AQMA declaration means streets including Leeman Road, Garfield Terrace and Livingstone Street as well as Salisbury Terrace will be monitored.
'Premature deaths'
In a report , the council said traffic was the "significant source of air pollution in the Leeman Road area".
Councillor Dave Merrett, from York City Council, said: "Based on national estimates up to around 158 people die prematurely in York each year due to the impacts of poor air quality.
"This is more than the estimated combined impact of obesity and road accidents together, showing the seriousness of this issue.
"Poor air quality puts people's health at risk, creates an unpleasant environment for visitors to the city, may damage historic buildings and places an additional financial burden on local health service providers.
"It's crucial that we step up our efforts to address this issue."