Jobs go at York nurseries investigated over welfare concerns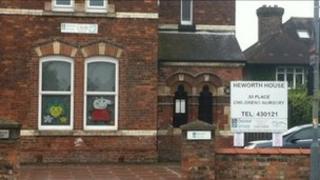 Four staff at two nurseries in York investigated over child welfare concerns have been made redundant.
The solicitor for the owner of the nurseries said the job losses were a direct result of damage to the business caused by the investigation.
Ofsted began an inquiry into Heworth House and Little Joe's day nurseries in 2011 after complaints about the care and supervision of children.
A final inspection in March 2012 found both nurseries "fully compliant".
Mark Burn, who represents the nurseries' owner Lynne Dyrdal, said the investigation had left her in a "financially serious situation".
He said: "She has had to use her own funds to support the businesses and pay staff and very sadly she has had to make some staff redundant purely as a result of what has taken place.
"Jobs are being lost, a business was put at risk because of the manner in which this investigation was conducted."
Mr Burn was not able to give a number for how many children had been withdrawn from both nurseries during the eight-month-long investigation but said parents had "flooded away".
"Mrs Dyrdal went from having two highly-regarded, well-respected and full nurseries to a situation where understandably parents reacted, parents were naturally concerned, frightened and scared," he added.
'Brink of destruction'
The inquiry into both nurseries was launched by Ofsted, the City of York's Safeguarding Children Board (CYSCB) and North Yorkshire Police in August 2011.
A month later six female members of staff were arrested but police later said no further action would be taken against them.
Mr Burn said his client had been been devastated by the investigation which had driven her business to the "brink of destruction".
"There were some procedural issues, matters of certain risk assessments and situations like that which needed tightening up and people needed retraining and rechecking," he said.
Mr Burn said Mrs Dyrdal admitted there had been procedural issues that had to be addressed but felt the manner of the investigation was an over-reaction.
He said: "It just seems as if it was a sledgehammer to crack the proverbial nut."
Ofsted said in its final report there had been complaints relating to safeguarding, promoting the good health of children, behaviour management, staffing arrangements and supporting children with disabilities at both nurseries.
It concluded that Mrs Dyrdal had taken "prompt and appropriate action" to rectify all problems.
A spokesperson said: "Ofsted plays an important role in regulating childcare providers. The welfare of children and young people is our primary concern.
"We aim to ensure that the welfare of children and young people is protected, that our action will bring about improvement and we regulate providers to ensure that they comply with legal requirements."
Pete Dwyer, director of adults, children and education, City of York Council, said: "When faced with concerns that safeguarding policies and procedures were not being implemented, that the individual needs of children with learning difficulties and disabilities were not being met, I think most people would expect that a thorough investigation was carried out into practices at the nurseries."