Scarborough expected to reject Duchy of Lancaster Cloughton plan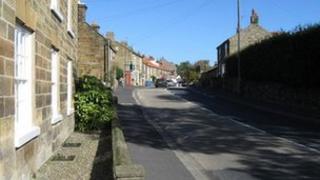 Plans to build 159 homes in a village in North Yorkshire would "severely" harm its "historic character", according to planners.
The proposal, by the Duchy of Lancaster estate, would more than double the population of Cloughton, near Scarborough.
The Duchy said it wanted to grow the village from the centre rather than permit piecemeal development.
Officials are recommending refusal when Scarborough councillors meet later.
As part of the scheme the Duchy is also proposing to provide buildings to include space for a shop/cafe or post office, a doctors' surgery and community space.
The plans also include the creation of a new public square "at the heart of the village".
'Fail to preserve'
Officials reporting to the Conservative-run Scarborough Borough Council have raised a number of concerns.
The report said the development would increase the current population of around 550 people by between 65% and 82%.
It said such a large population increase would be unsustainable given the lack of local services and the need for people to travel for education, shopping, employment and leisure.
The report also said: "The size of the development, the large number of dwellings proposed and their location would severely harm and fail to preserve or enhance the special historic character and appearance of the Cloughton Conservation Area."
The Duchy said the scheme offers a "coherent" development plan that includes brownfield and greenfield sites and also offers a range of new community facilities.
The Duchy of Lancaster provides the monarch with an independent source of income and administers almost 19,000 hectares of land across England and Wales.
The estate has owned land in and around the village of Cloughton since the 13th Century.