Queen praises York for 'marvellous' Maundy welcome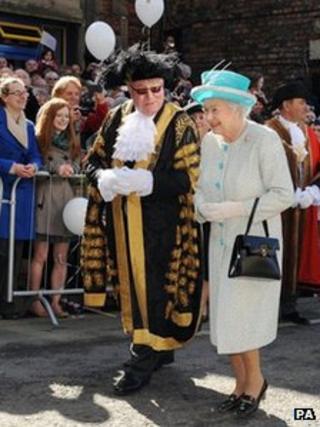 The Queen has thanked the people of York for the "marvellous welcome" given to her on Maundy Thursday.
Thousands of people gathered outside York Minster and cheered as the Queen, Duke of Edinburgh and Princess Beatrice of York arrived for the service.
Buckingham Palace said the day was "memorable" and "beautiful".
It added: "The royal party much enjoyed the opportunity to meet and see so many of the people of York who gave them such a marvellous welcome."
The comments were made in a letter to the Lord Mayor of York, Councillor David Horton.
He said: "It was an incredible honour to welcome Her Majesty The Queen and the royal party to York and we will treasure these memories for years to come."
York is one of the few cathedrals outside London to have been asked to hold the Maundy service for a second time.
To mark her Diamond Jubilee, the Queen handed out money to people from all of the UK's 44 Christian dioceses.
Usually, the Maundy money is given to people from a single diocese.
It is estimated that about 15,000 people visited York on 5 April to get a glimpse of the royal party.