New rules for Scarborough street entertainers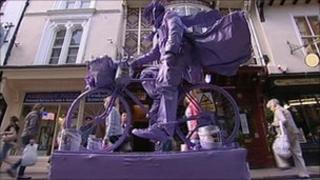 A code of conduct for street musicians and other entertainers is being introduced in Scarborough.
The code applies to entertainment in the town's main shopping precinct.
It requires buskers not to "solicit money through sympathy" and to stop performing if requested to do so by a council official or police officer.
Council officials said if the pilot scheme proved successful it would be extended across the borough.
Currently, street entertainers in Scarborough do not require a licence to perform unlike in other towns or cities such as York.
'Eliminate begging'
Nick Taylor, investment manager at Conservative-run Scarborough Borough Council, said they had opted to introduce a voluntary code of conduct after consulting buskers, shopkeepers and residents.
Mr Taylor said: "We wanted to eliminate sympathy-begging but still encourage good buskers to come here to add vibrancy to the town centre."
The code states street entertainers should not perform in areas where there is concentrated footfall, should not perform in the same location for longer than an hour and must not cause a nuisance from loud or amplified music.
They should not sell merchandise and, if collecting for charity, should have the necessary street collection permit in place.