Scarborough rejects Duchy of Lancaster's Cloughton plan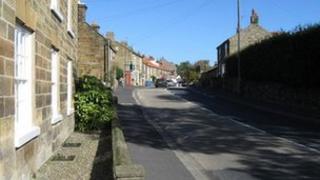 Plans to build 159 homes in a village in North Yorkshire have been rejected by councillors.
The proposal, by the Duchy of Lancaster estate, would have more than doubled the population of Cloughton, near Scarborough.
Planning officials had told councillors the scheme would "severely" harm the village's "historic character".
The Duchy said the plan would have ensured a "dynamic and viable future" for the village.
The scheme proposed creating new homes and community buildings alongside a new public square.
Scarborough borough councillors accepted the officials' recommendation to reject the scheme.
The Conservative-run authority had been warned the scheme would have a severe impact on the character of the Cloughton Conservation Area and would increase the size of the village to unsustainable levels.
Paul Clarke, chief executive of The Duchy Council, said: "Over the last three years, we have tried to work with the local community to produce a commercially-viable plan that would benefit existing and future residents.
"The development was designed to be practical, sustainable and architecturally sympathetic to its surroundings. As a result, we believe it would have delivered a strong rural economy and community in Cloughton ensuring a dynamic and viable future for the village."
The Duchy of Lancaster provides the monarch with an independent source of income and administers almost 19,000 hectares of land across England and Wales.