Armed raids after Scarborough shooting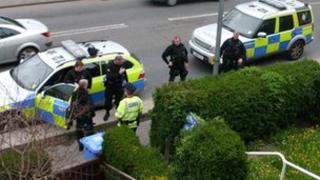 Armed police have raided two homes in Scarborough as part of a search for a suspected gunman.
A 36-year-old man was shot in a leg during a struggle with another man at a property in High Garth, Eastfield, at 17:30 BST on Saturday.
North Yorkshire Police said the victim was in a stable condition in hospital.
No one was arrested during raids on two homes on Monday morning. A police spokesman said the suspect was not thought to be a threat to the public.
Insp Leo Suret said: "I can assure residents that officers are doing all they can to trace the man involved in this incident.
"If you have any information that could help the police with the investigation please get in touch."
Glen Dutton, who works close to one of the raided homes in Seamer Road, said a woman came out of the house and was led away by officers, who then spent 15 minutes inside the property.
Mr Dutton said: "It was quite scary to watch. I couldn't believe it was happening. It's not something you see everyday, police officers with machine guns drawn outside your work place."