Scarborough council decides on Spa sea defences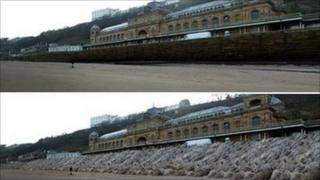 A decision has been made on the type of sea defences used to protect part of the coast at Scarborough.
The council's cabinet has agreed with proposals to prepare a business case for a rock revetment scheme instead of concrete steps.
The authority said the chosen option was "more economically advantageous and more environmentally acceptable".
Existing sea defences for the South Bay and Victorian Spa complex are no longer adequate, the council said.
Officials have recommended a rock armour revetment and wave wall constructed 1.1m (3ft 7in) above walkway level.
Defences deteriorating
They had said concrete would have a shorter life-span than rock armour, would require more maintenance and because it would be stepped it would require high insurance costs due to greater health and safety risks.
Councillor Andrew Backhouse, the council's cabinet portfolio holder for coastal and flood defences, said: "The sea defences are inadequate, wave overtopping is well beyond safe levels and will get worse and the effectiveness of these coastal defences continues to deteriorate."
He added: "We are still in the early stages of this project, much more work, studies and ground investigations yet need to be undertaken before any works can commence."
The authority has accepted £290,000 from the Environment Agency to carry out initial groundwork investigations.
The council said a study, when completed and approved by the cabinet, would be submitted to the Environment Agency in order to obtain further funding.