Council proposes town hall move to Eastfield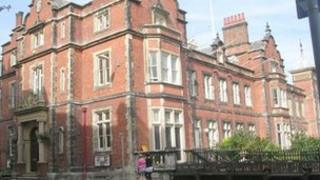 An out-of-town location is being considered for Scarborough's new town hall.
The council said the site of the former Skipton Building Society headquarters at Eastfield was its preferred choice.
The existing town hall is no longer suitable for modern-working, council officers have warned.
Business leaders have expressed concern about the move of 340 workers from a town centre location and the impact on the economy.
The Conservative-run council agreed to accept £3m from the Homes and Communities Agency (HCA) towards the cost of the move in March.
In return for the investment, the HCA would be given an equity share in the redevelopment of the town hall and neighbouring Futurist Theatre site, which the council also owns.
Jim Dillon, Scarborough Borough Council's chief executive, said a consultation on the planned move would run until 30 May.
The Scarborough and District Chamber of Trade and Commerce has warned the move of town hall workers out-of-town could harm the local economy.
However, the council said the move would have "little impact".
The authority has been told the current town hall, built as a private home in the 1840s, could cost more than £5m to maintain over the next 25 years.