Richard Perkins' army pension case 'to be reviewed'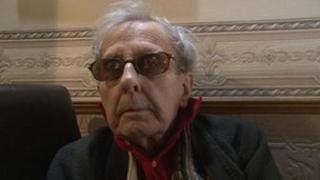 A 94-year-old World War II veteran who has been fighting for compensation over a pension error has said his case is to be reviewed.
In the 1990s, Maj Richard Perkins, from North Yorkshire, learned tax had been wrongly deducted from his army pension.
Four decades of tax was repaid in 2004 but he has never been financially compensated for the lost interest.
Mr Perkins, from Pickering, said he had been told the veteran's minister would review the case.
And Capt Bob Allen, chairman of the Leicestershire Regiment Association, said he also had been told the minister was prepared to look again at the case.
He said: "It is a complicated story but there does seem to be a high degree of injustice and if he feels it's worth fighting for then I am delighted to support him.
Mental breakdown
"The opportunity is arising now to raise the thing again and put the details forward to the veteran's minister."
Mr Perkins served in Burma in World War II. His service left both mental and physical scars and in 1959 he suffered a mental breakdown and had to retire from the army.
His pension should have been tax free but decades later it emerged that thousands of servicemen had been taxed because of an error.
All of the veterans affected were told the tax would be repaid and they would receive financial compensation, the equivalent of compound interest for the money that had been denied them.
Mr Perkins got his tax back but no compensation.
He was told the circumstance of his discharge meant he did not qualify for any extra payments.
The Ministry of Defence would not comment on Mr Perkins' case.