Fire-damaged Abbey Leisure Centre in Selby might be salvageable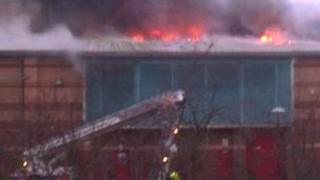 A leisure centre in North Yorkshire damaged by fire might be salvageable, according to a council leader.
A fire broke out in the sauna at the Abbey Leisure Centre in Selby in February causing extensive damage.
Officials at Selby District Council initially feared the building might have to be demolished.
Council leader, Mark Crane, said he remains hopeful the centre can be repaired subject to final engineering reports.
The fire at the centre occurred less than two years after it underwent a £1.1m refurbishment.
Early investigations revealed the blaze started in the steam room and sauna area.
Mr Crane said they were still waiting for final engineering reports on whether the building was structurally sound.
He said: "The council is working with its structural engineers and leisure partners before making a final decision on how the leisure centre will be repaired.
"This is an opportunity to look at the building and see if it could be improved for the residents of the district."
The Conservative-run authority said it had purchased the former Walkers Bingo Hall in Portholme Crescent and is turning it into a temporary gym.
The council said it was "optimistic" it would be open to the public by the end of May.
The Wigan Leisure and Culture Trust, which ran the centre on behalf of the council, is also offering fitness classes at other locations across the Selby area.