Remembering the York Blitz bombing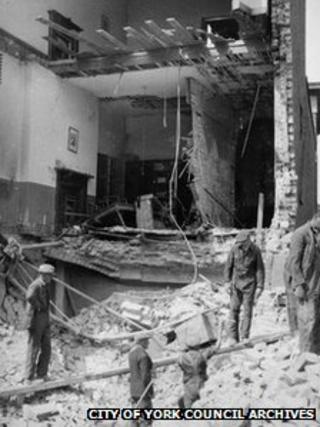 Seventy years ago York's historical significance made it a target for German bombs.
In just under two hours, in the early hours of 29 April 1942, 92 people were killed, hundreds were injured and more than 9,000 buildings in the city were damaged.
York was one of four cathedral cities bombed after the Luftwaffe, angered by RAF attacks on the German city of Lubeck a month before, used a Baedeker guidebook to select historic targets in England.
The so-called Baedeker raids saw the Luftwaffe bombard strategic targets including the railway station.
Station foreman William Milner was killed after entering a blazing building to obtain a box of medical supplies needed to treat casualties.
A memorial plaque is in place at the station and Mr Milner was posthumously awarded the King's Commendation for Gallantry.
'Few left'
His daughter Brenda, who was 13 at the time, said: "He was very brave, I am sure he wouldn't have really thought about himself and the danger.
"My mother and I had been sitting under the dining table through the night when the raid was happening and then when my father didn't come home off duty at six o'clock in the morning she went to look for him at the station.
"She said she went up on to the bridge going over the railway lines and looked down and there was lots of rubble of course and somebody said to her 'I'm sorry he's under there'."
Events being held in the city to mark the 70th anniversary include a service at St Martin Le Grand church, which had to be rebuilt after the bombings, and an exhibition at York Art Gallery, which runs until 18 June.
Ms Milner, who lives in Wilberfoss, said she appreciated such events.
She said: "There are few of us left to tell the story. I think it's wonderful that people do still want to remember."
Christopher Backhouse and his sister Jane Whitworth were trapped under rubble after their house was damaged in the raids. Mrs Whitworth was a baby at the time, and her screams attracted attention which may have saved her family's life.
Baby's cry
Mr Backhouse, 75, said: "It's my first conscious memory. I first remember the sirens, which were very frightening.
"But the abiding memory was the noise of the bombs getting closer and closer. They whistled as they came down and then boom as they exploded.
"I remember saying to my father 'the next one's ours, it's ours, it's ours' and then crash."
Mrs Whitworth said: "Our local butcher was walking down the street and was absolutely devastated, he knew us quite well.
"Suddenly from the rubble there was a little baby's cry and they realised there was somebody alive there so we were saved. My father then had to go to the steps of York Minster to beg for milk for me.
"There was absolutely nothing left."
Former RAF pilot Colin Newsome, who was working at RAF Bomber Command at Heslington Hall when the bombs started falling, said that night was still clear in his mind.
He said: "We were all very busy. I think our bombers were over Germany somewhere so we were to-and-froing with messages on the machines and then this alarm went just after half past two in the morning. At first we thought nothing of it but the bumps and the bangs soon started and we knew it was the real thing."
Mr Newsome, who is from Wakefield, took refuge in a bomb shelter with his colleagues.
He said: "After I came out it was still dark and from high ground near the hall I could look down over the city and the first thing that caught my eye was the minster, which always dominates the city anyway, was ringed with buildings on fire."