North and East Yorkshire remain on flood alert due to heavy rain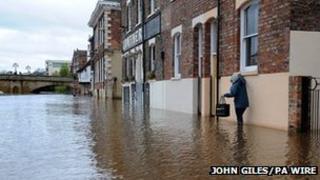 Yorkshire could receive between 15mm and 25mm of rainfall within 24 hours, the Environment Agency (EA) has warned.
Flood warnings , the second highest level of alert, remain in force for the River Ouse at York and the River Derwent in North and East Yorkshire.
The River Ouse in York is currently 9ft 2in (2.8m) above normal summer levels, the EA said.
Officials said the agency was monitoring river levels and further warnings could be issued later.
The Met Office issued a warning of heavy and persistent rain for Yorkshire on Sunday.
Heavy rain on Thursday caused flooding in parts of Yorkshire on Friday.
The Weir Caravan Park in Stamford Bridge, East Yorkshire, had to be evacuated after the Derwent broke its banks causing localised flooding in the town.
Hundreds of householders in York were also put on high alert on Friday after a temporary technical error caused four pumps at the Foss barrier to fail.
The barrier prevents flood water from the River Ouse backing up the River Foss and protects about 3,000 homes.