Yorkshire project warns of the dangers of 'sexting'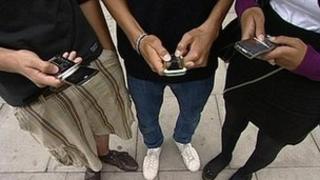 Young people in Yorkshire are being warned about swapping sexually explicit photos or images via their mobile phones, known as "sexting".
The online Safety.net project provides advice on the legal consequences if they were caught sending the images of themselves to others.
It has been developed by a teenage behaviour specialist in conjunction with police and probation officers.
The scheme also offers information on avoiding online sexual predators.
'Indecent image'
York probation officer Martin Magill advised the project on the legal aspects of sexting.
He said quite often teenagers under 16 were unaware that sending or receiving explicit images of themselves, or their partners, was illegal.
He said: "If one of the parties sends the other a photo on the phone of them partially nude, in the eyes of the British law that becomes an indecent image.
"If you've got that on your phone then you are in possession of an indecent image of a child."
A survey in 2009 by the charity Beatbullying found that 38% of 11-18 year-olds had received a sexually explicit or upsetting text or email.