Man jailed after discovering African 'massacre'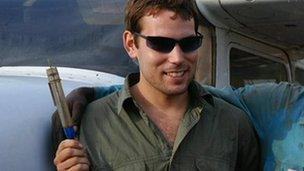 The family of a North Yorkshire man imprisoned without charge in Africa after discovering a suspected massacre are campaigning for his release.
David Simpson, 24, from Pickering, was working in the Central African Republic as a safari guide when he says he came across 18 mutilated bodies.
He reported it to the authorities but was later arrested along with his boss and both have been in jail for a month.
His brother Paul Simpson said the family were "very worried".
Mr Simpson was working for a Swedish company that takes clients game hunting and had been looking for a water supply when he found the bodies. He knew some of the victims from a nearby village.
His brother said: "The first thing he saw was six people laid face down with hands tied behind backs, all had been beaten by sticks and had machete wounds to the back of the head.
"He then went further into the camp and found another four people tied in the same fashion."
Other bodies were also found in the area.
He added: "We're just worried about him and what he must have seen. It must have been a shocking sight."
The family said Mr Simpson had said it was believed the suspected massacre had been carried out by the rebel group the Lord's Resistance Army.
After contacting the authorities, the family said Mr Simpson went voluntarily to answer questions and was arrested and imprisoned.
Mr Simpson said his brother was "surprisingly upbeat" despite his situation.
He has been able to speak to him because his brother has access to a phone.
"He's been kept in a nicer part of the prison... his anger is that he's been suspected of this for doing everything right and now he's been treated badly for it and it's just not fair."
The family are now calling on the government to do more and have set up a Facebook page to campaign for his release.
A Foreign Office spokesman said: "We can confirm the arrest of British national David Simpson in Central African Republic.
"We are providing consular assistance to Mr Simpson. We are in contact with Central African Republic authorities and continue to monitor the situation closely."
Related Internet Links
The BBC is not responsible for the content of external sites.