Harrogate 'royal seat' to mark Queen's Diamond Jubilee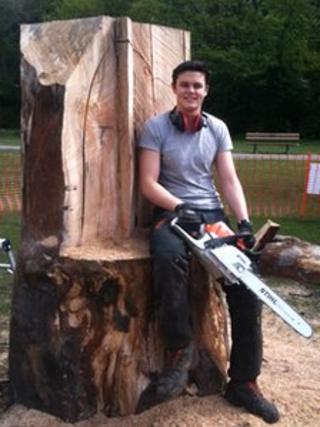 A university student from Harrogate is to carve a special "royal seat" to mark the Queen's Diamond Jubilee.
Jonathan Sherwood, 19, will spend three days carving a piece of beech wood in the North Yorkshire town's Valley Gardens using a chainsaw.
Mr Sherwood said the council commissioned the project after he approached them with the idea.
The seat will feature various symbols, including a corgi dog, diamonds, and an owl to symbolise wisdom.
Mr Sherwood said: "It's nice to have something that will sit there for many years.
"It's great to do something to mark the event.
"I don't think I'll ever see a 60th jubilee celebration in my lifetime again."
The carving, which measures about 8ft by 3ft (2.5m by 1m), will be sunk into the ground opposite the children's playground.