Community stadium 'essential' for York City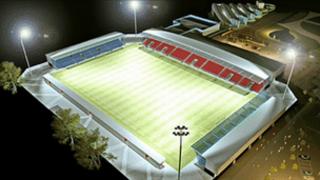 Directors at York City Football Club claim a new stadium is essential if the club is to continue its recent on-field success.
Plans for a community stadium and retail development on the outskirts of the city will be considered by the council on 17 May.
City centre traders oppose the scheme claiming it would adversely affect business.
The club will fight to return to the Football League at Wembley on 20 May.
York City FC has already ruled out refurbishing its current ground as too expensive and has insisted the club's survival rests on the Labour-run council approving the new stadium plan.
Sophie Hicks, a director at York City, said: "We desperately need this community stadium. Our current ground, Bootham Crescent, is pretty much falling to bits and there is no long-term future for us there."
Community stadium
Ms Hicks said the club's recent success had put the city on the map and proved the new stadium would not be the "white elephant" critics had suggested.
The leader of the City of York Council, James Alexander, said the final decision rested with the planning committee.
The development at Monks Cross on the outskirts of the city includes proposals for a 6,000-seat community stadium and large retail units.
Some traders said it would double the size of the existing shopping area at Monks Cross and pull trade from the city centre.
York City's victory over Mansfield on 7 May means the club will earn promotion to the Football League if they beat Luton Town at Wembley on 20 May.
The club will also play Newport County at Wembley on 12 May in the final of the FA Trophy.