Vandals damage 2,500-year-old Scarborough Castle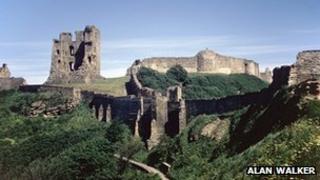 Police are hunting vandals after "considerable damage" was caused to the 2,500 year-old Scarborough Castle.
North Yorkshire Police said "extensive damage has been caused to parts of the castle including damage to Roman stonework, metal post caps were removed and sign posts have been damaged."
The attack is thought to have taken place sometime on Saturday night.
North Yorkshire Police said it would be carrying out extra patrols in the area over the coming weeks.
PC Alasdair McNeill at Scarborough police station, who is leading the inquiry, said: "It's very sad that people feel the need to destroy something which has stood for many hundreds of years, is a landmark for the town and contributes to the culture and economy of the area.
"The sign posts can be repaired and replaced, but the roman ruins cannot. I urge anyone who has any information to contact the police as soon as possible."
The castle is a popular tourist attraction and sits on a hill overlooking the sea and the town.
Peter Bleach, English Heritage's Site Manager for Scarborough Castle, said: "Scarborough Castle is often a target of anti-social behaviour and the latest damage to the castle is extremely disappointing.
"People often climb the 300-ft cliff walls to gain access during the night. This is very dangerous as the walls are 900 years old and are unstable.
"People risk a fatal fall whilst climbing them. Removing the fence and warning signs is also very irresponsible. Whoever did this placed themselves and the public at serious risk of death."