Force must 'move forward' says interim police chief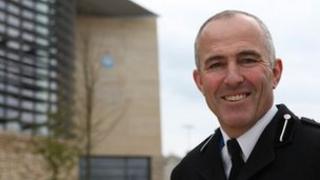 The temporary Chief Constable of North Yorkshire has said the force must move forward after the controversy surrounding his predecessor.
Tim Madgwick has taken over following the retirement of Grahame Maxwell after five years in the job.
Mr Maxwell admitted gross misconduct in 2011 after helping a relative during a 2010 recruitment drive for the force.
Mr Madgwick told the BBC the case had impacted on force morale but praised his predecessor's achievements.
An investigation found that Mr Maxwell helped a relative gain unfair advantage in a police recruitment drive for 60 jobs in 2010.
'Difficult issues'
He also admitted assisting a member of his extended family and a relative of his then deputy, Adam Briggs.
Mr Maxwell had asked to have his five-year fixed-term contract as Chief Constable renewed but the county's police authority rejected his request.
Mr Madgwick said: "We are where we are today partly because of the work he (Mr Maxwell) did as Chief Constable.
"We recognise what he has done, there are some difficult issues there but we as a force want to take ourselves forward and do what I have done for the last 25 years which is to serve the people of North Yorkshire and the city of York."
The police authority said Mr Madgwick's temporary appointment was to allow the Police and Crime Commissioner, due to be elected in November, to make the final decision on a substantive appointment.