York retail park bid refusal would be 'disastrous', says leader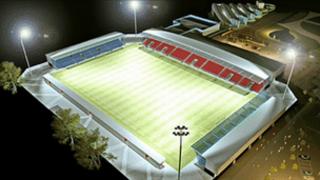 A council leader has said if plans for a retail development on the outskirts of York are rejected it would send a "disastrous" message about the city.
City of York Council's planning committee is meeting to decide whether to allow a 6,000-seat community stadium and large retail stores at Monks Cross.
James Alexander, Labour leader of the council, said if refused it would turn down city investment for years to come.
City centre traders claim it would adversely affect their businesses.
The scheme, proposed by developers Oakgate, would include a 100,000 sq ft (9,290 sq m) John Lewis store and a 120,000 sq ft (11,148 sq m) Marks and Spencer shop and could add up to £16m a year to the city's economy.
Planning officers have made no recommendation on the application.
'Make voices heard'
In a report to go before the committee, officers said it would draw trade away from the city centre but would guarantee the future of the city's football club.
The plans are supported by the city's football and rugby league clubs who will use the stadium.
Campaigners against the scheme have said it would lead to job losses due to the closure or decline of city centre and neighbourhood businesses.
Mr Alexander said: "The decision is not a foregone conclusion so it's really important that those in support of a community stadium, and the significant city-wide benefits, retail opportunities and new jobs associated with this, make their voices heard now."
He added: "As I've said before, turning this down is likely to turn down investment in our city for years and years to come and send the message that York is closed for business, and that would be disastrous for the city."