Diamond Jubilee: Scarborough Castle to be illuminated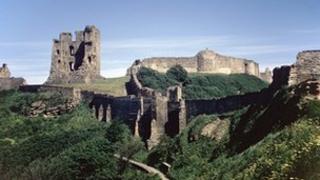 Images of the Queen will be projected on to the walls of Scarborough Castle for her Diamond Jubilee.
Powerful lighting will illuminate the south-facing walls of the castle on 4 June, according to Scarborough Borough Council.
The best vantage point to view the display will be on the South Bay beach, said the council.
Recently the castle was the target of vandalism that caused "considerable damage", according to police.
Scarborough Castle sits on top of a 300ft-high cliff and started life as an Iron Age fort.
It was occupied by the Romans and became a Viking settlement before it reached its heyday under Henry II, with its 12th Century keep.
The keep is the centrepiece of fortifications developed during repeated sieges including during the English Civil War in the 1640s.
The castle was damaged by German naval bombardment in 1914.
Scarborough's mayor elect Helen Mallory will switch on the display at 22:15 BST and it is planned to last for approximately 45 minutes.