David Simpson's family meets FCO officials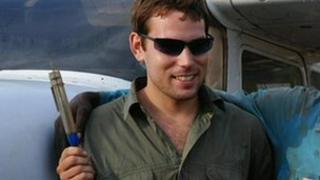 The family of a pilot imprisoned in Africa after finding 18 bodies has said a meeting with Foreign and Commonwealth Office (FCO) officials was "positive".
David Simpson, 24, of North Yorkshire, was working for a safari firm in the Central African Republic when he said he found the mutilated corpses.
He reported it to officials but was then detained on suspicion of murder.
His brother, Paul Simpson, said the family felt more confident after their meeting with the FCO on Monday.
Mr Simpson, of Pickering, was working for Swedish company Central African Wildlife Adventures, which takes clients game hunting, and had been looking for a water supply when he said he found the bodies in remote bushland.
Mr Simpson told his family it was believed the suspected massacre had been carried out by the rebel group the Lord's Resistance Army.
After contacting the authorities, the family said Mr Simpson had gone voluntarily to answer questions and had been arrested and imprisoned on suspicion of murder.
The Simpson family has established a Facebook page to campaign for his release and has been urging the government to do more.
The FCO said consular assistance was continuing to be provided to Mr Simpson and the situation was being monitored closely.