Whitby fishing businesses angered by bridge replacement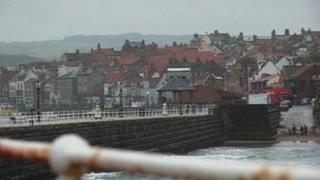 The replacement of a temporary footbridge on a pier in North Yorkshire has angered local fishing businesses.
Scarborough Council announced the repair of Whitby's West Pier footbridge to take place from 11 June during the first two months of the angling season.
Businesses in the area said it would have a devastating effect on the local mackerel fishing industry.
The council said work had to be carried out before the start of the school holidays and tourist season.
The temporary footbridge was installed last December after the original structure, which was built in the 1940's, was removed following "safety concerns".
Work to install a new bridge is expected to be completed in six weeks.
'Long term benefits'
Jackie Greaves, from Whitby Angling Supplies, said: "We'll have no use of the pier and no mackerel fishing, which is going to have a huge impact on everybody in the town - all the businesses.
"We have to ask ourselves, why now?"
The council said the work had been scheduled to "avoid the half term school holidays and the start of the tourist season".
Councillor Mike Cockerill, said: "I can empathise with those anglers who will temporarily lose access to the pier extension.
"However, I firmly believe the overwhelming majority of people in Whitby and the many thousands of visitors who come to the town every year will be delighted to see this new bridge installed, on schedule and on budget."
"There will be long term benefits for Whitby and I hope the vast majority of people will understand that."