Heslington site picked for Queen's Diamond Jubilee Wood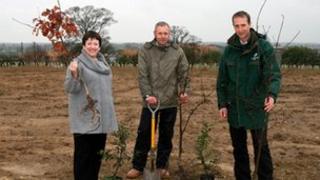 Land at the University of York is being converted into woodland to mark the Queen's Diamond Jubilee.
A 24-hectare (59.30 acres) site on the university's new Heslington East campus at Kimberlow Hill is one of 60 Diamond Woods in the UK.
The woods are intended to represent one for each year of the Queen's reign.
Pro-vice-chancellor for estates and strategic projects, Elizabeth Heaps, said that 16,700 trees native to Britain would be planted on the site.
Ms Heaps said the area would form "a lasting, living legacy celebrating Her Majesty's reign, as well as supporting local wildlife and providing an area for the York community to enjoy for generations to come".
She added: "It is a great honour to have been chosen to create a Diamond Wood in Her Majesty's Diamond Jubilee year.
"We are working with colleagues at the Woodland Trust to create something very special which we believe will provide a fabulous local resource, helping inspire a love of trees and woods."
The trees represent a range of species including field maple, alder, hornbeam, ash, wild cherry, oak, mountain ash, yew, lime, hawthorn, holly, crab apple and blackthorn.
Together they will form a mixed deciduous woodland, which should attract a broad range of insect and bird life.
The new Diamond Wood at Kimberlow Hill forms part of the landscaping for the £750m campus extension at Heslington East, one of the biggest capital developments in UK higher education in recent years, the university said.