Diamond Jubilee: Queen's image on Scarborough Castle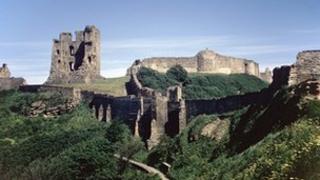 Images of the Queen will be projected on the walls of a North Yorkshire castle to mark the Diamond Jubilee.
The pictures will be shown on the south-facing walls of Scarborough Castle at 22:15 BST in a display lasting about 45 minutes.
The best vantage point to view the display will be on the South Bay beach, said Scarborough Borough Council.
Peter Bleach, from English Heritage, said there "couldn't be a better place" to hold a Diamond Jubilee display.
"It's fantastic. The castle is 900 years old and it's a cracking piece of workmanship," he said.
"How wonderful that this magnificent old castle can be used like this in the 21st century. Its builders could never have conceived of anything like this".
A beacon will also be lit at the castle at 22:00 BST, joining about 4,000 others across the UK.
Scarborough Castle sits on top of a 300ft-high cliff and started life as an Iron Age fort.
It was recently targeted by vandals who caused "considerable damage", according to police.