Victorian vampire-slaying kit up for auction in Yorkshire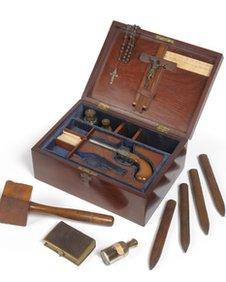 A Victorian vampire-slaying kit is expected to fetch £2,000 at an auction in North Yorkshire.
The 19th Century box contains a crucifix, pistol, wooden stakes and mallet, as well as glass bottles containing holy water, holy earth and garlic paste.
The box was left to a Yorkshire woman in her uncle's will.
Oonagh Drage of Tennants Auctioneers in Leyburn, North Yorkshire, said she had not seen anything like it before.
Ms Drage said the kit was probably made in the late 1800s and was possibly inspired by the popularity of Bram Stoker's 1897 novel Dracula.
"It's probably a novelty thing. It's playing to people's superstitions."
As well as the weaponry, the box holds a copy of the Book of Common Prayer from 1851 and a handwritten extract from the Bible which quotes Luke 19:27.
It reads: "But those mine enemies, which would not that I should reign over them, bring hither, and slay them before me."
The box goes on auction later this month.
Related Internet Links
The BBC is not responsible for the content of external sites.