Clean-up after flash flooding in North Yorkshire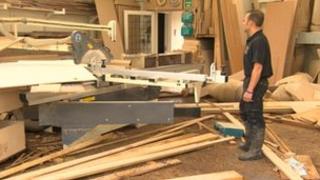 A clean-up operation has been taking place in parts of North Yorkshire after heavy rain caused flash flooding.
Damage was caused to homes and some businesses near York after torrential downpours on Saturday afternoon.
Richard Patterson, who owns a kitchen manufacturing business in Flaxton, said his showroom, offices and machinery had been badly damaged in the flooding.
He said: "We couldn't do anything, we just watched stuff float out the doors."
Firefighters said the sheer volume of rainfall had been too much for the drains to cope with.
Mr Patterson said the business would have to move to a different workshop while damage was repaired.
He said: "Within half and hour there was 2ft of water. It was just uncontrollable."
He added: "We will turn it around though.
"I've got an extremely full order book, there's a lot of customers and I will not let them down."