Clean-up after flash flooding in North Yorkshire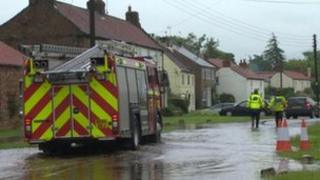 Fire engines have pumped water out of properties in North Yorkshire after heavy rain caused flash flooding.
North Yorkshire Fire and Rescue Service said crews dealt with flooding in properties in and around York.
Two engines attended incidents in the town of Boroughbridge, while three more dealt with flooding in 15 homes in the Badger Hill district of York.
The Environment Agency said a flood alert is in place for the River Foss in York.
The incidents on Sunday happened on the second day of flooding in the area.
Damage was caused to homes and some businesses and homes in Flaxton and Stockton-on-the-Forest following flooding caused by torrential downpours on Saturday.
James Bowes, station manager at North Yorkshire Fire and Rescue Service, said the sheer volume of water at Badger Hill caused problems.
He said: "The initial incident was quite difficult because the water levels were still rising. After about a period of an hour levels started to drop and we were actually able to make headway using our pumping equipment."