Horse helps in Howsham Mill restoration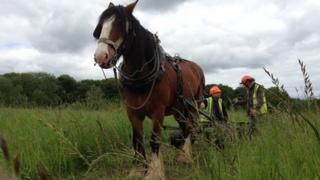 A shire horse has been recruited to help with the final stage of restoration work at an 18th Century water mill in North Yorkshire.
Work on the Grade-II listed Howsham Mill began in 2004 and it now supplies energy to the national grid.
A £640,000 grant from the Heritage Lottery Fund is funding the final phase of work due to be finished in 2013.
The horse is being used to transport scaffolding to the remote site which has no road access.
Mo MacLeod, from the Renewable Energy Trust which runs the mill, said: "The mill is on an island so we had to come up with some way of getting all the heavy kit over to the site without harming the environment.
"It was our building contractor who came up with the idea of getting a horse and a special low-impact cart to get things across."
The mill, built in the Gothic revival style, is believed to date from 1755 and has been attributed to the architect John Carr of York.
It stands on a small island on the River Derwent and was designed as a working corn mill and folly for the nearby Howsham Hall.
It ceased operating in the 1940s and fell into decay.
The Renewable Energy Trust took it over in 2004. Work to restore the mill featured in the BBC television series Restoration in 2006.
The final phase of work will see the main building restored on the outside and converted into a classroom and meeting space inside.