York Castle Piccadilly developer seeks talks with council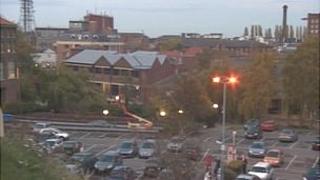 A developer behind a £200m retail scheme in York has said its plans have been "severely compromised" by a rival out-of-town scheme.
LaSalle UK said the Monks Cross development, approved on Wednesday, would have a major impact on its Castle Piccadilly plans.
The Monks Cross developer, Oakgate Ltd, said both schemes were viable.
LaSalle said it would now seek talks with the council to explore options for the Castle Piccadilly development.
The Castle Piccadilly scheme would deliver a 400,000 sq ft (37,161 sq m) shopping centre in the city centre adjacent to the Coppergate Centre and Castle Museum.
Lost trade
But the Monks Cross scheme offers large retail units for Marks and Spencer and the John Lewis Partnership as well as a 6,000-seat community stadium.
LaSalle UK had previously warned it might sell its assets in the city if Monks Cross gained approval.
Graeme Chalk, from LaSalle, said: "That development, Monks Cross, is destined to have a major impact on trade in the city centre and, as we have previously stated, that loss of trade - which is likely to be much in excess of £50 million a year - severely compromises our ability to deliver a viable, comprehensive, high-quality and much-needed development of the Castle Piccadilly site."
The Labour-run council had granted planning permission to Monks Cross in May, and the government has decided not to intervene in the decision.
Councillor James Alexander, leader of the council, said it welcomed the opportunity to discuss the future of the Castle Piccadilly site.
He said: "We have always said it is pivotal to our aspirations for the city centre, and want to do all in our powers to move it forward."