Yorkshire Dales flash floods leave cars stuck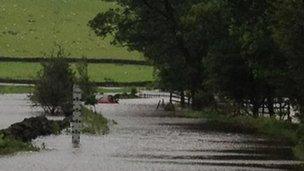 Flash flooding in the Yorkshire Dales left people having to be rescued from cars when they became stuck in water.
North Yorkshire Fire Service said nine people in three cars were brought to safety on the A684 in the Hawes area.
Firefighters said while they were helping a family in the first car which had got stuck two more cars drove into the water and also became stranded.
A fire brigade spokesman said: "The fire crews from Hawes effected the rescue of a family of two adults and two children, by pushing their car from the floodwater.
"Unfortunately, during this operation a further two cars also tried to negotiate the floodwater and also had to be rescued in a similar manner.
"In total, three cars containing five adults and four children were pushed to safety by the Hawes fire crew who donned wetsuits and lifejackets during the rescue."
He said this was followed by another rescue, also on the A684, near Bainbridge.
He said 23 fire personnel, including swift rescue teams, were sent to the incident and a man was eventually rescued by pushing the car out of the water.
On Friday evening, two women were rescued from a car trapped in floodwater at Carleton, near Skipton.
The Environment Agency said the forecast may mean some "respite" from rain on Saturday but further rain was forecast for later in the weekend.
Related Internet Links
The BBC is not responsible for the content of external sites.