Sadie Rose Clifford dies aged two after cancer battle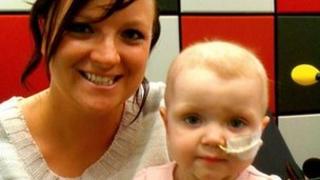 A two-year-old girl who suffered from a rare form of cancer has died after doctors said they could do no more.
Donations continue to be made to a cancer treatment fund set up for Sadie Rose Clifford, two, from Knaresborough, North Yorkshire, who died on Monday.
More than £400,000 was raised for a treatment regime in America. The toddler had neuroblastoma, a cancer that develops from nerve tissue.
Sadie Rose died as her mother read her a story, a family message said.
The family said the cash raised would now help other children.
Sadie Rose's mother Katie Clifford posted a message on Facebook that said: "At 5.15pm this afternoon [Monday] Sadie fell asleep forever, peacefully and whilst mummy was reading her favourite book.
"Twinkle, twinkle little star, how I wonder what you are!
"There's so much more I'd like to say, maybe we'll talk another day xxxx."
'Enjoy the time'
Sadie Rose's grandfather Graham Gotts previously told BBC News the treatment regime in America had not been successful.
He said: "The hospital told us the cancer was widespread through Sadie's body.
"They said there was nothing more they could do and it was just a matter of keeping Sadie pain-free and comfortable and enjoy the time we have left with her."
Knaresborough holds a market every Wednesday and the president of the chamber of trade, Maurice Bardon, said the town crier would call for a minute's silence.
"This has touched the whole community, she was a Knaresborough girl and her case was known even further afield."
The Just Giving appeal set up for Sadie is still receiving donations