More affordable homes allowed for Yorkshire Dales residents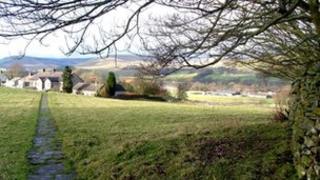 About 200 homes could be built for local people in the Yorkshire Dales under new plans by the national park authority.
This means more people could live in affordable homes in the national park.
Twenty-nine new sites were identified for development, ranging in size from two to 30 houses. Potentially, 236 new homes could be built over 15 years.
The YDNPA said half would be affordable homes to rent or buy through a local housing association.
The other half would be available on the open market but these would be restricted to people who need to live or work in the national park, the YDNPA said.
Established in 1954, the national park stretches from Stainmore Gap in the north, to Skipton in the south, the Vale of Mowbray in the east, and the A65 in the west.
The plan includes locations in Hawes, Grassington, Reeth, West Witton and Horton in Ribblesdale.
'Sustain local communities'
The national park covers an area of 1,762 square kilometres (680 square miles) in North Yorkshire and Cumbria.
Carl Lis, YDNPA chairman, said the new policy would support people who live or work in the national park.
"We have widened the definition of 'local need' so that more local households are eligible for housing," Mr Lis said.
The new scheme would see more barns converted into houses and brownfield land developed to meet local needs, he added.
Mr Lis said the YDNPA would now work with landowners, developers and parish councils to build new houses on the sites.
Peter Stockton, head of sustainable development, said the gap between local incomes and house prices in the national park prevented many local people from buying and renting homes.
"The plan releases new land for a mixture of future affordable and local market housing, which should help some of those people stay in the area and should also help to sustain viable local communities and services, like local schools," Mr Stockton said.
Thrity-four sites were originally identified under the plan but some were removed because they did not meet the criteria.